Year in Review 2022-23
Report | St Martin in the Fields Charity, Year in Review 2022-2023
Report | St Martin in the Fields Charity, Year in Review 2022-2023

We have brought together a review of all our programmes in one place, so that you can see all the ways you supported people experiencing homelessness in 2022-2023.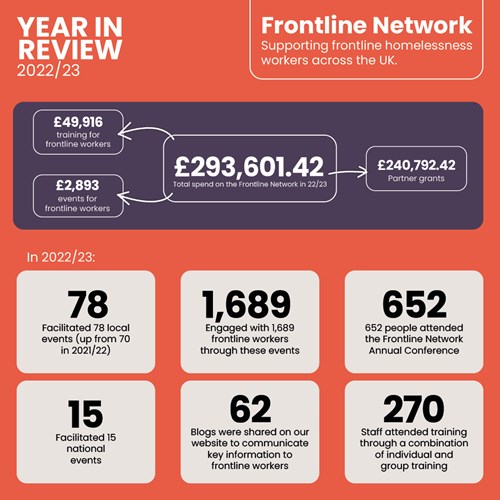 We're pleased to share information on how people experiencing homelessness have been helped. We've provided a review of what's been achieved through delivering the programmes our supporters made possible this year.
Our vision is for everyone to have a safe place to call home and the support they need to retain it. Our goal is that homelessness is prevented wherever possible and when it does occur, people receive the best possible support to secure and keep a safe place to live. The unstable post-pandemic economy has resulted in inflation being higher than it has been for decades. As a result, people in the UK are facing a cost-of-living crisis that has been challenging for everyone, but more so for people experiencing homelessness.
We know that homelessness is a problem that can be overcome. We know that together, we can help find a way out for people who find themselves in difficult situations. Our supporters and the frontline staff across the UK have shown that this is possible. We're pleased to let you know that we've made considerable progress in the three areas set out in our theory of change, see page 5.
A few highlights
Evidence: We've allocated multi-year funding to three organisations to deliver support for people experiencing homelessness who have mental health issues.
Effectiveness: Through our networks, we facilitated more events (78) and brought even more frontline workers together (1,689) to share knowledge and expertise in their regions.
Influence: We deliver evidence-based commutations to increase support for solutions to homelessness.