COVID-19 and Homelessness: The New Frontline
COVID-19 and Homelessness: The New Frontline
COVID-19 and Homelessness: The New Frontline
Thursday, November 12, 2020
Here at the St Martin's Charity, within three weeks after the start of the national lockdown, we launched the VRF Emergency Fund. Over the course of the next five months we gave out more than 4,500 grants and distributed just over £1.65million in emergency funding across the UK.
Which is why we are delighted to share our latest report 'COVID-19 and Homelessness: The New Frontline'. This report presents a snapshot of the data we received through the applications made to the VRF Emergency Fund during this period.
Read the report here: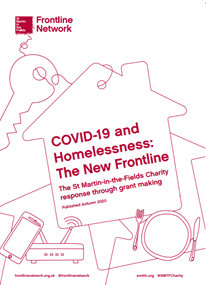 We hope that this data will be a useful tool both for ourselves, in targeting our current and future resources, as well as for those working in the housing and homelessness sector or in roles that interface with the sector so that we may plan for and improve future responses to supporting people experiencing homelessness.
As we enter a period of local lockdowns and uncertainty about when life will return to 'normal', one thing that the pandemic has shown us is what is possible when the Government acts and we work together.
Under the 'Everyone In' Initiative nearly 15,000 rough sleepers were accommodated in record time, and as a result of emergency legislation, renters have had some protection from eviction and longer notice periods during the pandemic. It is crucial that we don't lose this momentum and put into practice the support that we know has a positive impact on people experiencing homelessness.